BECKERLE LUMBER SPRING SALE
Sale Ends Saturday May 20st 2017.
BECKERLE LUMBER's Spring CIRCULAR IS OUT.
GREAT SAVINGS FROM ROCKLAND COUNTY's FAMILY TRADITION SINCE 1940.
Spring Circular Savings
Beckerle lumber: A family Tradition.
Celebrating 77 Years of Supplying ALL your Home Improvement Needs.
Rockland County's Best Home Improvement Supply.
Savings on: Electric Power Washers,Circular Saws,Leaf Rakes,E-Z Wash,Top Soil.
Savings on Lawn Supplies,Mulch,weed Killer,trash Cans, decorative Stones,Wheelbarrows,Yard tools,Andersen Millwork, Doors and door hardware,Storm doors and storm windows,roofing,skylights,insulation,trim boards, siding,james hardie siding,driveway sealers, power tools, cabots stain, ladders, mail boxes,tarps,garden hoses...and more!
(...believe it or not) See the above flyer for the details.

Beckerle Lumber:
Lumber Yard, Hardware Store,Design Center, and so much more.
Lumber One BUT not just Lumber.

Building on Service
We have what you Need For ALL Your Building Projects. Creating a unique look for your kitchen is what Legacy is all about. Combining sytle with creativity, you can make your kitchen the best room in the house. Visit our kitchen showrooms In Spring valley, Orangeburg & Haverstraw.
Bertch Bath Cabinetry, Decora Kitchens, and Legacy Kitchens ALL on SALE.
We also have put many of our different Countertop's on SALE.
Paints & Sundries On Sale.
If you want to change colors, we have put Benjmain Moore Interior Paints: Regal Flat, Regal Eggshell, Regal Semi Gloss and Regal Matte, ALL on SALE. We have also put Purdy Brushes and Rollers on sale.
Doors & Windows On Sale
Look to Beckerle For Doors & Windows. We have what you need to make a great entrance. We can recommend what doors and windows to use to enhance your home. If you don't have a contractor, we can install them for you.
Prepare for the BBQ season
If sprucing up is on your task list we have all your Lawn and Garden supplies. We also are experts when it comes to building, fixing or staining your outside deck. We can help, let us know how. Thats why we are here....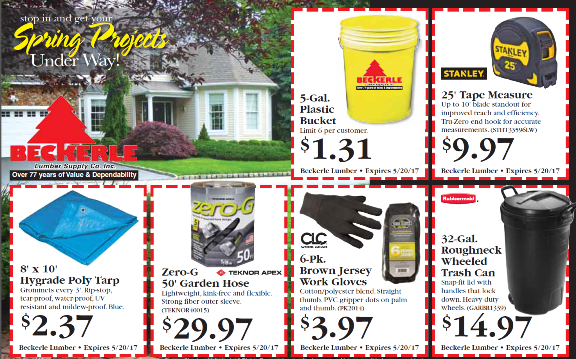 www.beckerlelumber..... MISSION: To Be THE Most Helpful Building Supply In Rockland County New York.... Beckerle Lumber Supply Co., Inc. 2017 © .... Thanks for coming!
Beckerle lumber with four branches in Rockland County,New York.

A Family Tradition Since 1940
---
STORE LOCATIONS
SV(845)356-1600 ·

BECKERLE LUMBER Spring Valley - Main Office ·
3 Chestnut Street · NY 10977
CC(845)268-9248 ·

BECKERLE LUMBER Congers · 79 Lake Road · NY 10920
OB(845)359-4633 ·

BECKERLE LUMBER Orangeburg · 219 Rt. 303 · NY 10962
HV(845)942-1492 ·

BECKERLE LUMBER Haverstraw · 59 Westside Ave · NY 10927
SV(845)356-1600 ·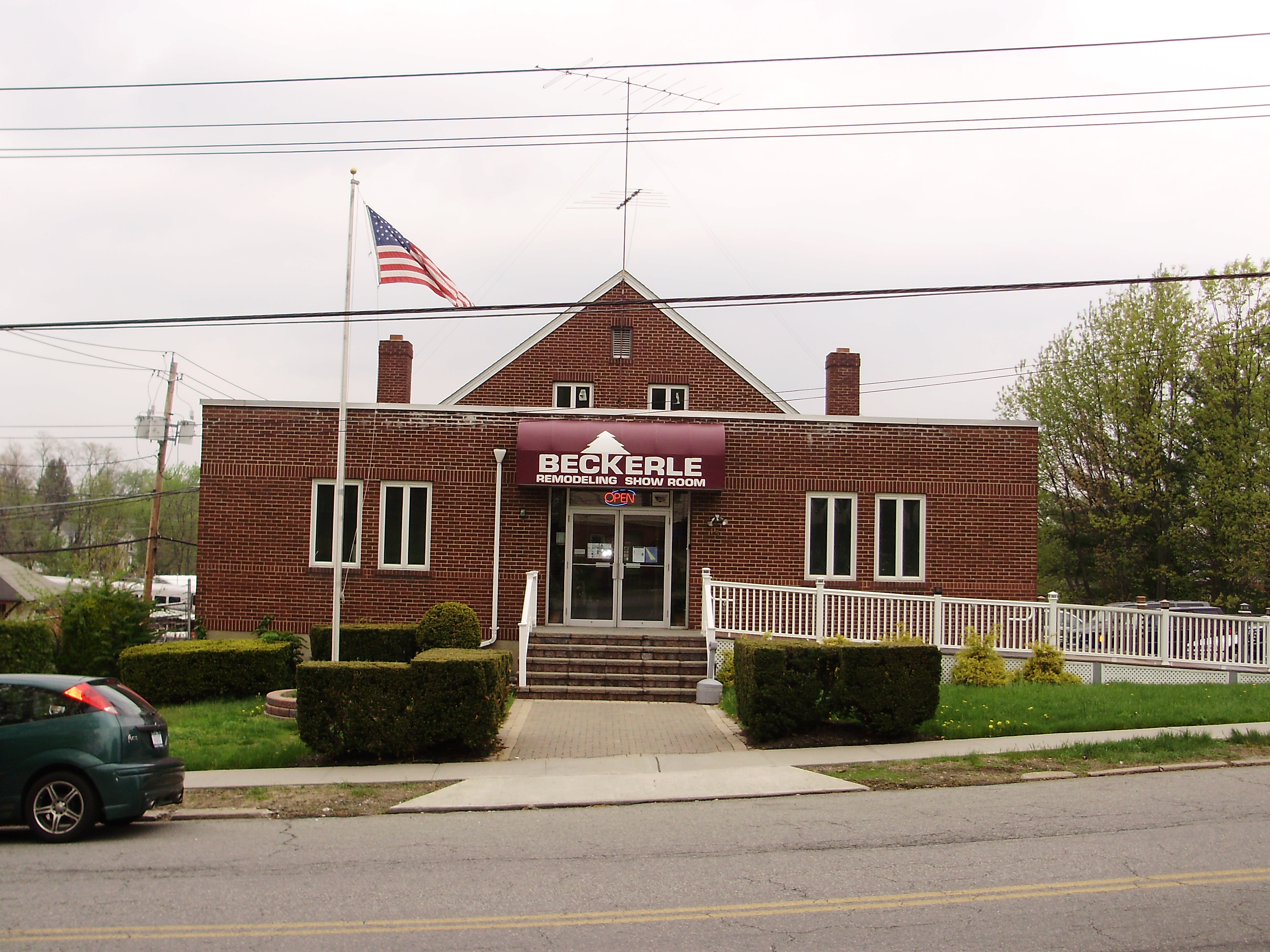 BECKERLE LUMBER Spring Valley Showroom · 15 Furman Pl. · NY 10977
HV(845)942-1492 ·

BECKERLE LUMBER Haverstraw Showroom · 90 N Rte 9W · NY 10927
---